2012-02 "Everybody to carrying out the tasks laid down in the joint editorial for this year!" -The Workers' Party of Korea Publishing House created a poster "Everybody to carrying out the tasks laid down in the joint editorial for this year!"The poster depicts a worker calling for effecting a high-pitched drive for a fresh revolutionary surge, holding high the torch kindled in South Hamgyong Province and thoroughly implementing the militant tasks set forth in the joint editorial of the newspapers of the party, army and youth league.It shows the spirit prevalent in all domains of the national economy including light industry, agriculture and key industries which are dashing like wind under the uplifted red flag which bears letters reading "Industrial revolution in new century", "General offensive in production", "Improvement of people's living standard" and "Thorough implementation" reflecting the idea and spirit of the joint editorial. (1/2012)

"Forward for general offensive in response to Party's call!" - The Workers' Party of Korea Publishing House produced a poster "Forward for general offensive in response to Party's call!"The poster depicts the serviceman and people all out in the general offensive against the background of Songun Chollima flying high in response to the flames of Hamnam.The poster which reflects the militant call of the party with appealing stroke ardently calls upon all the servicepersons and people to bring about great renovations and leap forward in all fields for the building of a thriving nation to honor the pledge made before the bier of leader Kim Jong Il. (2/2012)

"14th Kimilsungia Festival" -Posters on the 14th Kimilsungia Festival and the Kimilsungia-Kimjongilia Exhibition have been produced. They will be held with splendor to mark the centenary of the birth of President Kim Il Sung (the Day of the Sun) and the 80th birthday of the Korean People's Army.The poster on the festival depicts the old home of the President in Mangyongdae and the immortal flowers against the background of the blue sky over the country.Seen in its upper part are the letters "The great leader Comrade Kim Il Sung will always be with us" and in its lower part letters "The 14th Kimilsungia Festival."The poster on the exhibition depicts the flowers of the sun against the background of Mt. Paektu and deep forest.Seen on the poster are words "Celebration of the 80th birthday of the Korean People's Army" and "The Kimilsungia-Kimjongilia Exhibition."Logos of the festival and exhibition, places and periods are given on them. (4/2012)

"The World Congress of the Juche Idea 2012″ - Posters on the World Congress on the Juche Idea were produced in the DPRK. The Congress is to be held with splendor in Pyongyang on the occasion of the birth anniversary of President Kim Il Sung. The posters reflect the unanimous aspiration and desire of the followers of the Juche idea and progressive humankind to victoriously push forward the socialist movement and global independence, guided by the Juche idea. A poster depicts the Tower of the Juche Idea and Kimilsungia and Kimjongilia in full bloom against the background of the globe. It deals with the fact that thanks to the Juche idea, the original revolutionary philosophy, there came a new era in the development of human history, the era of Juche in which the popular masses carve out their destiny independently and creatively. There is also a poster depicting people holding "Kim Il Sung's Selected Works" and leader Kim Jong Il's works "On the Juche Idea" and "On Some Problems of Education in the Juche Idea" in their hands and the Chollima Statue.It reflects the firm will of the Korean people and progressive mankind to actively study and disseminate the Juche idea which is evoking strong support and response among the world people for its truth and tremendous vitality and invariably advance along the road of Juche. The words "World Congress on the Juche Idea" and the logo of the Congress are seen on the posters. (4/2012)

"Forward to final victory under the leadership of the great party!" -It vividly represents a serviceman, a worker, a farmer and an intellectual out in the drive to realize the noble intention of the dear respected Kim Jong Un, flying the flag of the Workers' Party of Korea.Seen on the poster are words "Single-minded unity," "Invincible military capability" and "Industrial revolution in the new century" which reflect a strategic line for building a thriving socialist nation.It calls upon all the service personnel and people to advance full of confidence towards the final victory in the cause of building a thriving nation, united close behind the great party. (7/2012)

Poster "Let us leap higher and faster riding a fleet steed of science and technology!" portrays satellite Kwangmyongsong 3-2 flying in space fully demonstrating the space science and technology of Juche Korea and its overall national power, and a scientist calling for pushing back the frontiers of latest science and technology.It calls for making great innovation and surge in all fields of building a thriving nation with the same spirit with which scientists and technicians who manufactured and launched the Juche-based working satellite and fully displayed the dignity and might of Songun Korea. (1/2013)

The poster "Toward Sepho tableland, a large-scale stockbreeding base!" deals with the revolutionary stamina of all the army and people determined to build another socialist land of bliss in Kangwon Province by successfully carrying out the party's grand nature-remaking plan. (1/2013)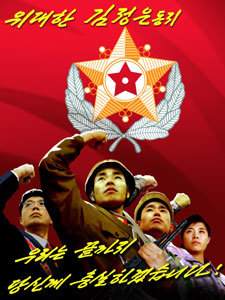 Dezember 2013

Posters calling upon all the service personnel and the people across the country to devotedly defend the leader were newly produced.

Poster "We Will Be Faithful to You, Great Comrade Kim Jong Un, to the Last!" depicts service personnel, intellectual, worker and farmer standing against the background of the red flag bearing the shining Marshal's star. It reflects the steadfast will of the service personnel and people of the DPRK to hold Marshal Kim Jong Un in high esteem as the unitary center of unity and leadership.

Posters "Let Us Devotedly Defend Our Party Central Committee!" and "We Know You Only!" show the strong spirit of all the service personnel and the people to devotedly defend the Central Committee of the Workers' Party of Korea headed by Kim Jong Un by carrying forward the traditions of Mt. Paektu and accomplish the Juche-oriented revolutionary cause of Songun, believing in him only for all ages.

Poster "We Will Uphold Our Party with Steel in Any Adversity!" represents the pledge of the working class to devotedly defend the party and the leader and remain loyal to the great party's leadership by bringing about a surge in production.